Dr. Peter Fröhlich, Phd, Hungary
Varius > Friends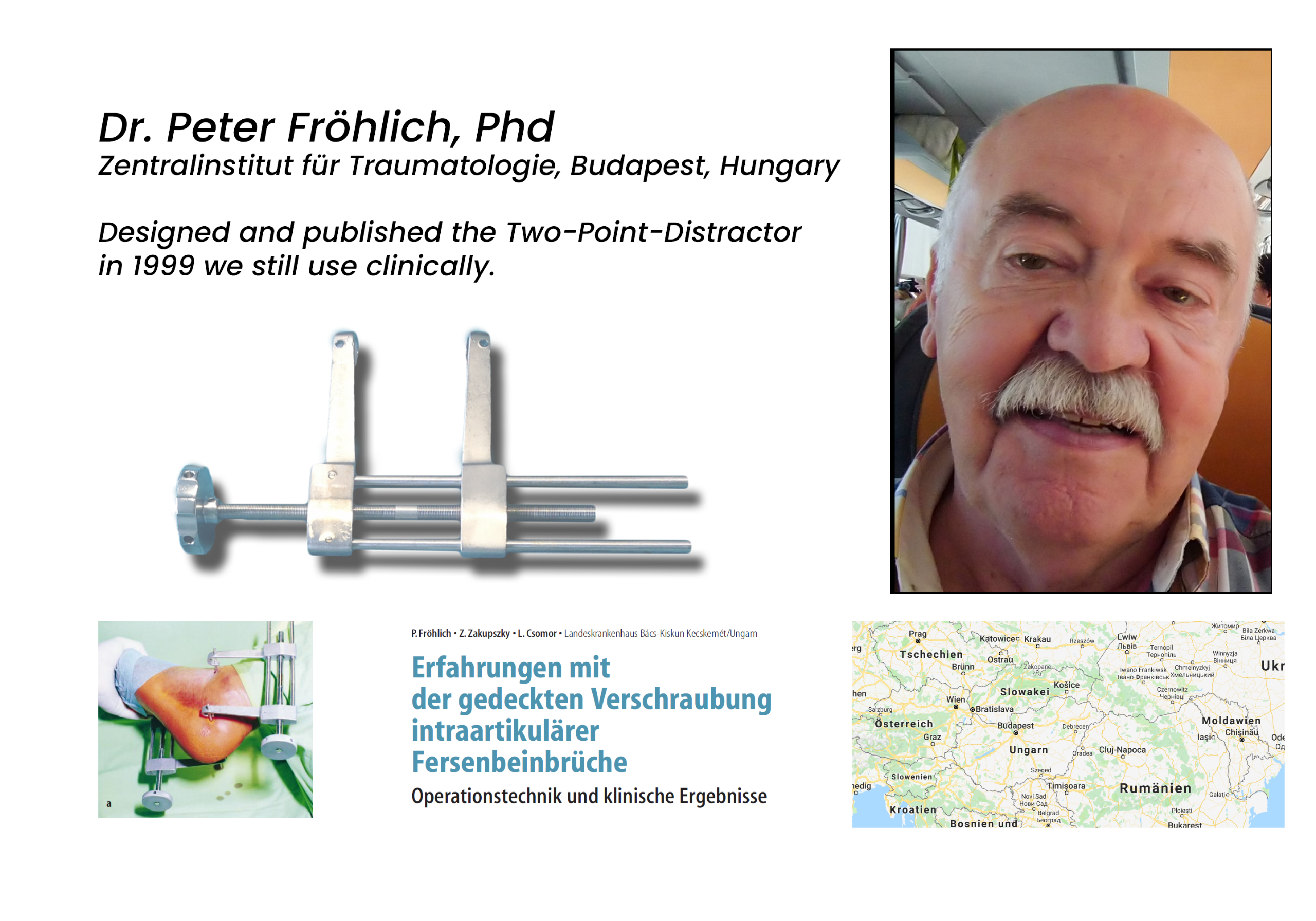 Info English
The Hungarian Germans were settled in the depopulated parts of Hungary after 150 years of Turkish rule in the 18th century.
Therefore my German family name. As a infant I first spoke Swabian, then Hungarian before 1945.
We had
obligatory
Russian at school for 10 years. Result: perhaps "basic level"! Western languages existed only in large cities and privately.
Supposedly for political reasons I was not allowed to study.
I passed my state examination at the Semmelweiss University in Budapest in 1967.
Then I worked 19 years long as an university employment at the medical academy Magdeburg and my thesis for MD (Experimentelle Untersuchungen zur Ultraschalldiagnostik des menschlichen Skeletts).
We proved to the research group of the University Charité Berlin: with 1 MHertz only the changes of the soft tissues are measured, not those of the bone.
My thesis for "Med. habil" (Clinical and experimental results of fracture treatment with the external fixator).
I could not defend my research on the biomechanics of fracture healing with the fixator model at the Academy Magdeburg as a foreigner.
So I returned to Budapest with my family shortly before the German reunification.
I then submitted my dissertation to the Budapest Academy of Sciences and defended it as Ph.D.
On the one hand clinical results were evaluated, on the other hand the bone fracture healing of the rabbits was compared experimentally
A: with constant stability, B: with splinting removed during healing adjusted and C: vice versa, with healing increasing stability splinted. The healing was biostatically compared and evaluated using 11 methods (clinical evaluation, radiographic planimetry of callus formation, histological and histological planimetry using vital staining, strength measurement, acoustic emission and electronic voltage change). Even if the dynamisation followed arbitrary steps, the fracture healing (size C) could be accelerated by 1/5. ( - experimental proof for the more favourable effect of dynamisation ). The faster healing resulted from a more favorable, coarser osteon structure as well as thicker osteon rings.
Beside the diploma for surgery, trauma surgery I completed sport medicine and forensic medicine.
My connection to the Central Institute of Traumatology in Budapest has always been close, also when I worked 8-10 years as head physician and also medical director of state institutes. Even now as a retiree I am still present on a weekly basis.
In my 56 years of practice in the field, I have become acquainted with and helped to shape several developments.
For example: titanium implants, healing goal - callus formation, joint prostheses, open fracture treatment with multi-step wound closure, arthroscopic surgery, differentiated spongiosaplasty (biological bone depot), MIO, rule of polytrauma treatment, differentiated treatment of fractures close to the hip, etc.
Many in the EU could present orthopedic traumatology in the EU only united but subspecialization continues.
Besides hand surgery, foot surgery has established itself and led to new knowledge ( advantages of early treatment, superfluous spongiosaplasty, anatomy of the blood supply to the heel, function of the lower ankle joint, the importance of reconstruction of the statics after a foot injury with essential importance for the function ).
To my family; three children living in three countries, two as professors in Losan and Vienna.
Info Deutsch
Die Ungarndeutschen wurden in die entvölkerte Teile Ungarns nach 150 Jahre Türkenherrschaft im 18-Jahrhundert eingesiedelt.
Daher mein deutscher Familienname. Als Kleinkind sprach ich zuerst schwäbisch, dann noch vor 1945 ungarisch.
Wir hatten in der Schule 10 Jahre lang Pflichtrussisch. Ergebnis: vielleicht "Grundstufe"!? Westliche Sprachen gab es nur in Großstädten und privat.
Angeblich aus politischen Gründen durfte ich nicht studieren. Mein Staatsexamen legte ich an der Semmelweiss Universität -Budapest 1967 ab. Sprachlich und fachlich folgten 19 Jahr lang Universitätsanstellung an der Medizinische Akademie Magdeburg, Dissertation für MD (Experimentelle Untersuchungen zur Ultraschalldiagnostik des menschlichen Skeletts).
Wir bewiesen gegenüber der Forschungsgruppe der University-Charité: mit 1MHertz misst man nur die Änderungen der Weichteile, nicht die des Knochens.
Meine Dissertation für "Med. habil" (Klinische und experimentelle Ergebnisse der Frakturbehandlung mit dem Fixateur externe. Untersuchungen zur Biomechanik der Frakturheilung am Fixateurmodell ) konnte ich an der Akademie Magdeburg als Ausländer nicht verteidigen.
So kam es, dass ich mit meiner Familie kurz vor der deutsche Wende nach Budapest zurückgekehrt bin.
Die Dissertation habe ich dann an der Akademie der Wissenschaften Budapest vorgelegt und verteidigt als Ph.D .
Einerseits wurden klinische Ergebnisse gewertet, andererseits es wurde experimentell die Knochenbruchheilung der Kaninchen verglichen A: bei konstant stabil,
B: bei während der Heilung angepasst abgebaute Schienung und C: umgekehrt, mit der Heilung zunehmende Stabilität geschient.
Die Heilung wurde mittels 11 Methoden biostatisch verglichen und gewertet (mittels klinischer Wertung, röntgenologische Planimetrie der Kallusbildung, mittels Vitalfärbung histologisch, histologische Planimetrie, mit Festigkeitsmessung, des Weiteren mittels Schallemission und elektronische Spannungsänderung.)
Auch wenn die Dynamisierung willkürliche Stufen folgte, die Frakturheilung (Gr. C) konnte um 1/5-el beschleunigt werden ( - experimenteller Beweis für den günstigeren Effekt der Dynamisierung- ). Die schnellere Heilung ergabt sich durch günstigere, gröbere Osteonenstruktur, sowie durch dickere Osteonenringe.
Neben dem Diplom für Chirurgie-, Unfallchirurgie habe ich Sportmedizin-, Gerichtsmedizin absolviert. Meine Verbindung zum Zentralinstitut für Traumatologie in Budapest war immer eng, auch dann als ich 8-10 Jahre als Chefarzt und auch ärztlicher Direktor an Landesinstituten gearbeitet habe.
Auch jetzt als Rentner bin ich noch wöchentlich anwesend.
In meiner 56-jährigen Praxis im Fach habe ich mehrere Entwicklungen kennen gelernt und mitgestaltet.
So zum Beispiel: Titan-Implantate, Heilungsziel -Kallusbildung, Gelenkprothesen, offene Frakturbehandlung mit mehrschrittigem Wundverschluss, arthroskopische Chirurgie, differenzierte Spongiosaplastik (biologische Knochendepot), MIO, Regel der Polytrauma Behandlung, differenzierte Behandlung der hüftnahe Frakturen, usw.
Viele in der EU konnten Orthopädie-Traumatologie in der EU nur vereint vorstellen. Dabei geht die Subspezialisierung weiter.
Neben der Handchirurgie hat sich die Fusschirurgie etablieret und zu neuen Kenntnisse geführt ( Vorteile der Frühversorgung, Überflüssige Spongiosaplastik, Anatomie der Blutversorgung der Ferse, Funktion des unteren Sprunggelenkes, die Rekonstruktion der Statik nach einer Fussverletzung hat mit der Funktion gleichwertige Bedeutung).
Zu meiner Familie; drei Kinder in drei Länder lebend, zwei als Professoren in Losan und Wien.